by Satish Sekar © Satish Sekar (March 25th 2011)
Abolished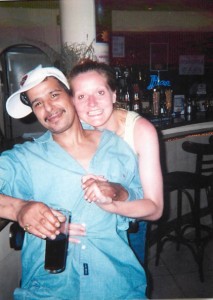 The late Yusef Abdullahi would not be compensated for his ordeal despite his undoubted innocence if he had been wrongfully convicted now. The Cardiff Three (Abdullahi, Stephen Miller and Tony Paris) were compensated under the Discretionary Scheme which was abolished in 2006.
"The discretionary compensation scheme was abolished on 19 April 2006 by the then Home Secretary and the coalition Government have no plans to reintroduce it", wrote the Ministry of Justice Minister Baron (Tom) McNally. "We will continue to consider applications for compensation under the statutory scheme, Section 133 of the Criminal Justice Act 1988, which fully meets our international obligations".
This leaves victims of miscarriages of justice whose convictions are quashed on a first appeal with no option but to sue for compensation. Despite the tragically early death of Mr Abdullahi the government refuses to right that wrong. His vindication by  the conviction of Jeffrey Gafoor made no difference – he still would not qualify and the government sees nothing wrong with that.
Plain Wrong
"Compensation is paid under Section 133 where a conviction is quashed at an out-of-time appeal, or following reference to the appeal court by the Criminal Cases Review Commission, on the basis that a new or newly discovered fact shows beyond reasonable doubt that there has been a miscarriage of justice", Lord (Tom) McNally wrote. "Ministers decide whether an applicant is entitled to compensation under Section 133".
In other words despite the clearest evidence of innocence possible – vindication by the conviction of the real murderer of Lynette White in the case of the Cardiff Five – it makes no difference as they would not meet the requirements of Section 133. Nor does Colin Stagg.
"For those applicants who are to receive compensation, it is then for an independent assessor to decide how much should be paid, based on claims of loss from the applicant" McNally continued. "It is open to an applicant to make a claim in relation to his or her own Article 8 rights-for example, loss of family life. Section 133 fully meets our international obligations to pay compensation in cases of miscarriages of justice". In fact, it does not.
Absurd
If the obligations were fully met in such cases by Section 133, why had the Discretionary Scheme been introduced at all? The only logical explanation is that there were grave injustices that were not catered for under the Statutory Scheme and that it did not meet the UK government's international obligations.
Prior to the introduction of the Discretionary Scheme in 1985 the Human Rights Committee of the United Nations (HRC) clearly believed that the Ex Gratia Scheme (Statutory Scheme) did not meet the requirements of Article 14(6) of the International Convention on Civil and Political Rights. Britain steadfastly claimed that the Ex Gratia Scheme was enough. The HRC was not convinced.
Article 14(6) says as follows: "When a person has by a final decision been convicted of a criminal offence and when subsequently his conviction has been reversed or he has been pardoned on the ground that a new or newly discovered fact shows conclusively that there has been a miscarriage of justice, the person who has suffered punishment as a result of such conviction shall be compensated according to law, unless it is proved that the non-disclosure of the unknown fact in time is wholly or partly attributable to him".
Inadequate
Section 133 was plainly inadequate to satisfy those conditions, which became binding when Britain ratified the Covenant including Article 14(6). The wording of Paragraph 5 (a) and (b) of Section 133 are as follows: "In this section ʻreversed' shall be construed as referring to a conviction having been quashed— (a) on an appeal out of time; or (b) on a reference". In other words where the Covenant did not exclude those who had won a first appeal from compensation, but S133 did and still does.
The potential for serious injustice was clear. An obvious example is the Cardiff Five. Without the Discretionary Scheme, they would not have met the requirements of S133, even though there is no doubt reasonable or otherwise about their innocence. Refusing to compensate the demonstrably innocent is unconscionable and plainly in breach of our obligations under Article 14(6).
The only thing that could be worse is forcing the innocent to prove their innocence to beyond reasonable doubt, knowing full well that the criminal justice system does not declare innocence before compensating under S133 as well. Once again Britain is breaching its international obligations to victims of miscarriages of justice.