Pre-ordering Now
It will contain new revelations on the failure to utilise forensic pathology and other sciences and investigative techniques correctly. It will contain important information on how the integrated approach to the investigation of homicides can prevent injustices, and deliver justice. Over a decade after this approach was adopted, it is amazing how little is known about it. It is the standard that investigations should be held to.
We plan to launch this book in the autumn of 2017. It can be pre-ordered through this site now. We can also be contacted about it on Twitter: @fittedin1 and on our facebook page at https://www.facebook.com/fittedinproject/ for orders and further information. Details of its content will be published soon. The price is £15.00 (postage is separate – £5.00 in UK, £7.50 in European countries, £10-15 in rest of the world).
Register an order on this page. An invoice will confirm the order (pay through options on site or by bacs). Interest can be shown on our facebook page and through the comments section. We will send you an invoice confirming the order and providing you with the account details. When ordering, make it clear that any money sent to The Fitted-In Project is for the book.
Further information will be posted in due course.
The cover of Fitted In: The Cardiff 3 and the Lynette White Inquiry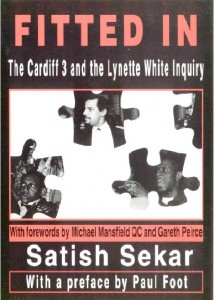 Reviews of Fitted In: The Cardiff 3 and the Lynette White Inquiry
Professor V V Pillay (Indian Forensic Toxicologist)
Dr. Gyan Fernando (Home Office Forensic Pathologist for Devon & Cornwall)
Dr. Ndubuise Eke (Senior Lecturer, University of Port Harcourt, Nigeria)
Forewords from Fitted In: The Cardiff 3 and the Lynette White Inquiry
Gareth Peirce (Renowned Solicitor)
Michael Mansfield QC (Esteemed Barrister)
Preface from Fitted In: The Cardiff 3 and the Lynette White Inquiry
Paul Foot (Award-winning Investigative Journalist)
Epilogue from Fitted In: The Cardiff 3 and the Lynette White Inquiry
John Alderson (Former Chief Constable of Devon and Cornwall Police)
Appreciations of Fitted In: The Cardiff 3 and the Lynette White Inquiry
Alun Michael (MP, JP at the time and later First Minister of Wales and current Police and Crime Commissioner for South Wales)
Peggy Pesticcio (Natural mother of the murder victim Lynette White)
Billy Power (One of the Birmingham Six)
Corin Redgrave (Actor and Producer)
Bob Woffinden (Author, Journalist and Producer)
David Jessel (TV Presenter and former CCRC Commissioner)
David Rose (Former Crime Correspondent of the Observer)
Duncan Campbell (Former Crime Correspondent of the Guardian)
Gerard Elias QC (Lead barrister for Tony Paris)
Heather Mills (Former Social Affairs Correspondent at the Observer)
Lee Jasper (Former Director of the 1990 Trust)
Sir Frederick Lawton (Former Lord Justice)
Roger Backhouse QC (Lead barrister for Yusef Abdullahi)
Yusef Abdullahi (Victim of the miscarriage of justice)
Alwyn Cambrensis (The Most Reverend Archbishop of Wales)
Mentions
Extract from Police Compensation Case Hearing
The Cover of The Cardiff Five: Innocent Beyond Any Doubt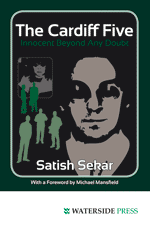 Foreword of The Cardiff Five: Innocent Beyond Any Doubt
Forensic Science Appendix in The Cardiff Five: Innocent Beyond Any Doubt
Professor Dave Barclay (Former Head of Physical Evidence at the National Crime Faculty)
Appreciations of The Cardiff Five: Innocent Beyond Any Doubt
Richard Adams (Father of Racist Murder Victim Rolan Adams)
Steven Bird (Solicitor)
Duncan Campbell (Journalist and Author)
Mags Gavan (BAFTA Award-winning Documentary Producer)
Alun Michael (JP, MP, Former Home Office Minister and First Minister of Wales)
Bob Woffinden (Journalist, Author and TV Documentary Producer)
Impact of The Cardiff Five: Innocent Beyond Any Doubt